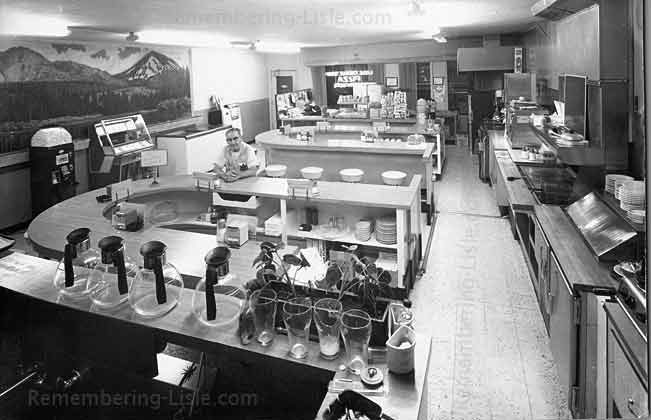 Would you just look at this PRICELESS photo of the original Lisle Coffee Shop. Ok... Let's see some hands... How many of you actually remember this place? Anyone? Anyone? Ok... I see some hands!
The coffee pots in the foreground just says it all!
The Lisle Coffee Shop was located where the "Lisle Florist" is located today. Right on Main Street. It was one of the best "meeting places" Lisle has ever known. It only had one flavor of coffee and there was always an ash tray within reach.
I spent hours talking to Sue Houha (The owner's daughter) and listening to her great stories about this place. Old Rosie (with her bags of stuff and squeaky metal pull shopping cart) was a frequent visitor. It was "the" place to go for coffee and to catch up on the latest. Many local Lisle girls waitressed there at one time or another.
Sue even told me about the secret parties they would have after closing. Her parents didn't know but this place was sometimes jumping well into the night.
Think about it. It was like a Denny's, Starbucks and an internet chat room all rolled up into a classic diner in the middle of downtown Lisle Illinois.
Scroll down to see "close ups" of this photo and more.
No.. They just don't make 'em like this anymore!