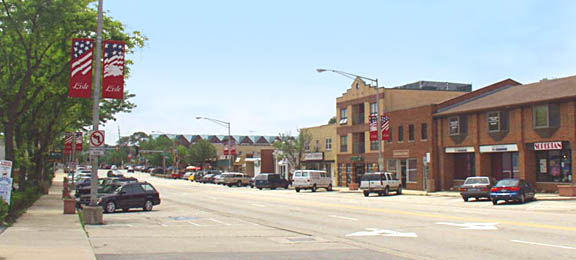 Here is Lisle in June, 2004. 'Ol time residents can pick out the Ben Franklin building and others that are still looking original. Like old friends, they've been around for many years. But hey, they're looking pretty tired so maybe we should just tear 'em down and put in condos!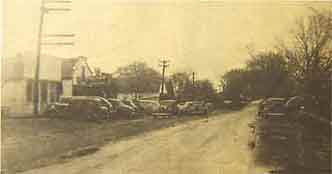 Here's a photo looking north on Main St. around 1940.
The sign for Ann's Pantry can be seen on the left.
| | |
| --- | --- |
| Here is a great photo of Lisle in the 1960s. | Here is an enhanced close-up from the photo at left. Ben Franklin, Adolph's Barbershop and Lisle Cleaners can be seen. Even the water tower! |
Here is a photo looking north. Notice the original look of the "beloved" Book Nook.

Here is an enhanced close-up from the photo at left.

The drug store, Town Liquors and even Ogden Ave. can be seen.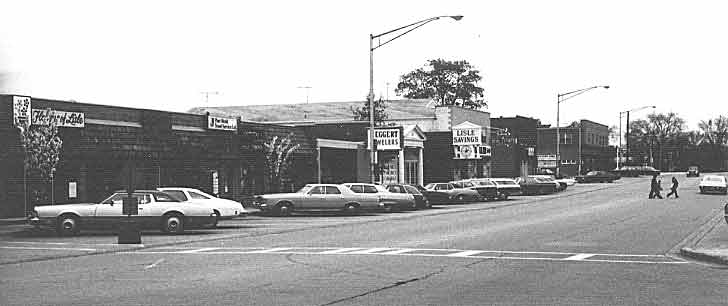 Ah, the 1970s! Dig those cars!
| | |
| --- | --- |
| Here's a 70's era "winter time" picture of the Lisle Post Office. (Like I needed to tell YOU that) What's really cool is the old playground that can be seen behind it. It makes me want to go stick my tongue to the swing set's metal poles just one more time! Oh, and that old house that was back there? You know, up on the east hill of the playground? To this day I still say it was haunted! (What was the story with that house anyway?) | Here's a photo of the Post Office building today. It's now architectural offices? Notice the playground hill behind it is now the "new" Lisle fire station. |
| | |
| --- | --- |
| Here's a 70's era photo of Bank of Lisle. . Do you remember standing in line? Do you remember the "drive-up" window? Their security guard once brought me into the vault to let me check it out! That's a major "score" when your a kid! How did he know I wasn't a terrorist? Would love to see any photos of it before they added on and remodeled. | Here's a 70's era picture of Lisle Savings. It's look hasn't changed much to this day. That old clock is classic and I hope to God they don't tear the face off this place to make it fit in with the "new concept" look that they're going to be giving downtown Lisle.Also, check out Ben Franklin on the right, the old Lisle garbage can on the left... Oh yeah, and the "cool Pinto wagon!" |
| | |
| --- | --- |
| Here's a 70's shot of the A&P parking lot. I'm not sure if it was still A&P at the time of this photo. You can sorta see the "Somthin' Special" gift store sign on the far right. Prior to A&P, many of you remember this place as the "big peony field" before they built A&P. | I took this photo in July 2004. You can still see the original light post on left. I wonder what happened to that cool "vent thing" that used to sit atop A&P. (Yes, I've looked for it on e-bay!) Also, would someone tell me what the improvement is when you cover old "red brick" with stucco??? Is it a 70's thing? Oh well... Just wondering. |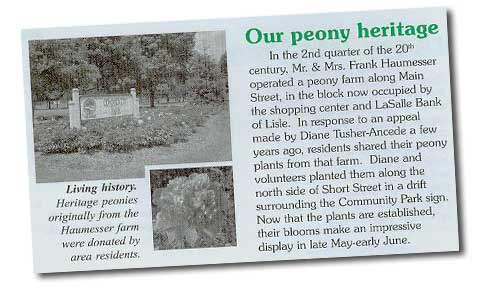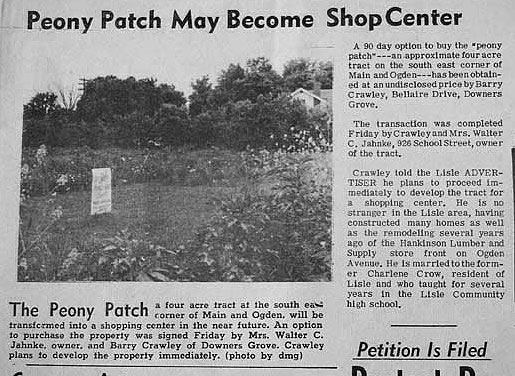 Taken from a 1965 copy of the Lisle Advertiser Newspaper.
Here is the article that first informed Lisle residents that their beloved peony field was soon to be "toast!" Many Lisle residents would pick these incredible flowers from this field to adorn their homes.
Within days, this field was being bulldozed and the foundations were being put in for the new A&P grocery store.
More old newspaper clips can be found here.
We'll be adding more to this "Uptown Views" page soon!
We welcome your comments, stories or pictures!
Contact us here.
BACK TO HOME PAGE