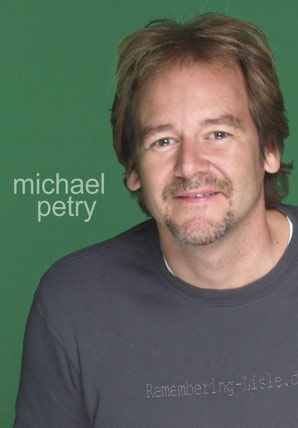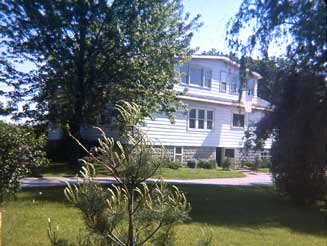 Our great old Lisle house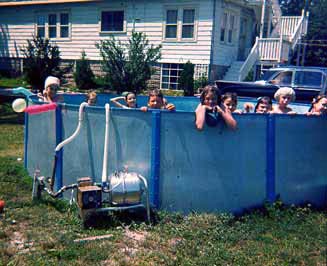 Our awesome pool parties. Yes... We were "stylin'."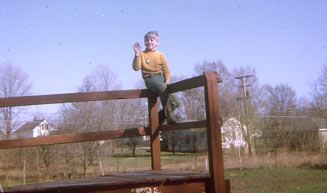 That's me with my cool "pack boots," sheriff's badge and stately wave to the camera. Notice the small houses along Main Street in the background.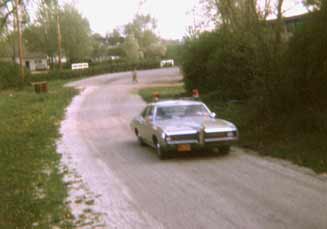 The Lisle Police patrolling down our road around 1969?
One of the wonderful things about having Attention Deficit Disorder is that nothing can really hold your attention.. So, you end up PAYING attention to EVERYTHING!
I'm sure that's why I have so many diverse memories of Lisle.

Sometimes I find it difficult to share my memories with people that had never lived in Lisle. You tell them about some of the unique people we knew or places we had or things that used to happen... And all you get is that blank stare back.. I almost want to say "..well, I guess you just had to be there." But it seemed that the more cities I lived in over the years, the more I realized how unique a place Lisle was. I just didn't know it when I was growing up. Who did?
After awhile, I just stopped bringing up Lisle stories. I even think my kids find them to be a bit "Mayberry" or even unbelievable. Eventually, after years of living far away from Lisle, it all just started to seem so far away in my mind.

That was of course, until I started talking with former "Lisle-ites."

Let me put it this way.
Have you ever laughed so hard that you actually started to worry that you might die from the lack of oxygen?
Well again and again, after spending a little time with people that actually grew up in Lisle, you end up laughing hysterically or just unpeeling layer upon layer of incredible memories that so many of us share.

And fortunately for us, many of you have shared your great memories here with us. We all thank you so very much!

Thinking back about growing up in Lisle... It's amazing to me how what once felt so mundane to many of us, can now seem so incredibly profound.
Lisle, in many ways, has played a large part in making us what we are today.

I grew up in the large white house that is just south of what is now the Lisle Honda dealer. My mother still lives there today. Most of that area use to be beautiful country fields and small homes. The St. Joseph's creek ran through our back property. We had a giant yard with animals, garden, and six of us kids running around barefoot, laughing and entertaining ourselves. The only time we locked our doors was if we left to go on vacation.

Today, things around our house will be changing again. The Village of Lisle has allowed the Honda dealership to expand even farther south. Honda of Lisle has bought all the homes and properties around my Mom's house (where we all grew up.) They've burned down all the homes... Cut down every tree and will be putting in massive "auto-storage" parking lots just feet from Mom's house. Her house will be practically surrounded by cars and loading trucks!
Honda has offered pennies on the dollar for the property. Of course Mom can't accept at that rate. They've tried other "tactics" to get her to leave but for now she'll just hold on to all she's got.
Our memories are still there.. But the sound of hydraulic wrenches are a constant reminder that not all wonderful things can last forever.

So now the wait is on. Mom is the only thing in the way of Honda's south spreading empire.
But that's okay.. Because Honda of Lisle is the town's largest tax contributor. Hmmm.

So you see, on a personal note, it's been tough to watch some of the changes that have been - or that are going to be - taking place in Lisle. I believe very much in "progress" but not at the cost of ripping out what "history" is left in a community.

So far the plan is to cover or "revamp" the buildings on Main Street! Some could even be tore down to make room for another road project.

Main Street School is gone forever! Here was a building that played a huge role in the history, development and collective memories of the town of Lisle! Condos are the plan to follow. Maybe they'll look as attractive as the other condos they built right down town!

We just tore down Benedictine Hall. A truly historic building from the turn of the century.. Absolutely full of history!

The old Lisle Library building.. Did you know that it was one of the very first general stores in Lisle? It dated back to the 1890's when the Riedy family ran their hardware business. (Click here to see a picture of Front St. showing Riedy's) They just tore it down to build a new building.

Not many of you know about Cinert's bridge but believe me when I tell you it was truly a classic hand-made bridge that had been around forever.. The "Village" has stepped in and ordered it never to be rebuilt.

With all of this taking place, I just wanted to try to remember the Lisle I once knew. The Lisle many of you once knew. I thought it would be kinda' cool to have a web site that you could go to and just drift back and remember. And maybe even hook up with old friends or family.. So far, it seems to be working.

And yes, I still feel Lisle is a wonderful place!
(The highest taxes in the nation but that's a whole other topic.)

Let me end by saying this:
The input and responses from so many of you has been incredible and has really made this site a lot of fun to do. I still have some great items to post and look forward to continued submissions from people around the nation! (And the world for that matter.)
This site is truly being built by former and present Lisle-ites! In fact, this site has had over 12,000 hits just in it's first year!

I look forward to hearing from you with any submissions, suggestion comments or questions. Yes, we love to hear from you!

I hope you enjoy this site as much as I do and thanks for the visit.

Michael Petry
Remembering-Lisle.com