Okay... So maybe I'm a little over the top with my description of the old wooden bridge that used to cross over the Burlington Railroad tracks on Yackley. Ed Wright sent us the top photo. This photo shows a serene scene of Yackley Avenue looking south going past the Yender woods and onto the actual bridge itself.

Also, Bonnie Lyman submitted the amazing "sunset" photo.
She wrote:
"This photo was taken from behind the house I grew up in on Burlington Avenue in Lisle. My guess is that is was taken in the late 1950's."

This was the rickety old wooden bridge that was the terror and legend for any kid that was forced to cross it in their parent's car.. It was only wide enough for a single car and it's wooden planks would creak and bounce as the car's tires passed over. The bouncing wood was so loud and If you were driving south, there was then a steep hill on the south side of the bridge that only added to any child's nightmarish torment of "the Bridge!"

Today, the "new" Yackley Bridge goes over the tracks at the same location.

Thank you Ed and Bonnie for sending the photos and sharing them with so many of us. It's items such as these that make this site truly special! And yes, we are still looking for any additional photos!

Ed Wright wrote the following:

Mike,
I found this picture of the bridge you mentioned in the Online Radio. This was taken before we made a family walk down to the creek and then beyond to the Sacred Heart Academy grotto at what was then the end of Yackley Av. (It is now relocated to line up with College Ave.)
Bill Sass and I "ran away from home" one afternoon and spent about an hour under the bridge while our parents searched the neighborhood and Yender's woods for us.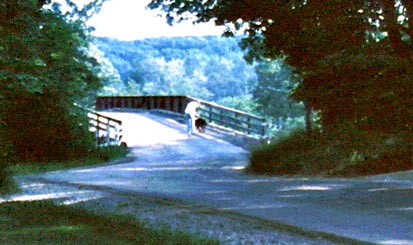 My dad took the picture from the southeast corner of Burlington and Yackley Avenues. What you see in the foreground is Yackley, no part of Burlington Ave. is seen. To the right is Yender's Woods, which partly was lost when they straightened Yackley. When I was living on Yackley (just about 2 houses up from Burlington on the west side, Yackley was always a 2 lane street that would be layered with tar in the Spring or Summer to keep the dust down. In the early sixties (when the new bridge was built) it was blacktopped. The old bridge did have character, it would make the noise of a hundred loose boards as the cars went over it. The new bridge didn't just replace the old, but they graded the approach on the south side. From the bridge it was a steep decline to the narrow bridge (another steel girder covered with wood planks) over the creek at the bottom of the hill. It was a badge of courage for any of us to ride down that hill on our bikes with all the loose gravel and potholes. Yackley's farm, on the southeast side of the tracks used to have a drive off of Yackley just before that creek, which had to have its driveway increased twofold after the "improved" bridge. It's hard to imagine what Yackley Ave was like before they straightened it, but that little curve in the picture is just the tip of what changes were made. It curved through the south section quite a bit before curving over to the convent and running on the Nuns' property next to the grotto. At that time, the nuns had a huge vineyard for making sacramental wine and also raised prize winning Brown Swiss cows at the diary that was down from the convent toward the river on Maple Ave.

I'm not sure who the gentleman and dog are in the picture, but I'm sure my dad saw it and thought that it was typical small town and should be chronicled. As I go through his slides, I will try to pull some more and send them off to you. We have quite a few of parades and such.

I loved hearing Andy Yender. There were many rumors of his father shooting rock salt at kids who would wander into the cow pasture off of Yender. My mom, brother, and I would walk up to the old farmhouse on Ogden and buy eggs from Mrs. Yender. I went to school with Lee Hankinson, Julius' daughter, owner of the lumber yard. We used to go up and get "scrap" wood from his bin to make kites. I'd like to see Home Depot let kids walk in do that. Of course, you can't really let kids walk more than 2 blocks without adult supervision these days.

Lisle was special, I remember when Happy Days was on TV and my friends would all sit around and ridicule it for not being believable because nowhere would a clean cut kid like Richie hang out with a greaser like Fonzie. I would speak up and say I grew up in a town just like that, where the greasers were the ones with cars, who would pull the homecoming floats for the parade, that just about the whole town turned out for.

Well, I'm getting a little long winded, and what was intended to be a short note has turned into a rather long letter. Thanks, for stepping up and maintaining the site. It's great to share memories of our past.

Ed Wright

P.S. My brother, Jim Wright graduated in 1962 and I followed 6 years later in 1968. My mom was the school nurse for Scheiser (sp) Junior High (later known as L.J.H.) and Tate Woods until Dorothy Caldwell retired in the mid 60s and then my mom traveled between all the schools until she retired in 1970.

Hope this brings back many memories.

Ed Wright